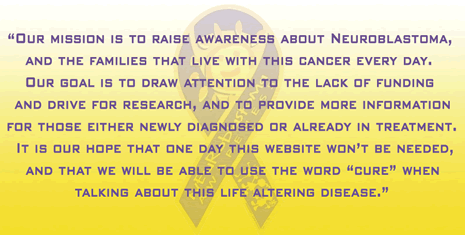 GOLD in September for Childhood Cancer Awareness Month
To show our support for Childhood Cancer awareness month we are making our website GOLD for the entire month! We need your help to spread the word about all types of cancer especially Neuroblastoma. September is also a very special time as it is the time that Charlotte's Father gets a fancy haircut in honor of all the childeren fighting cancer. During the month of September we are also raising donations for a local childhood cancer organization that has helped us and our community if you are able to make a donation please click here or navigate to:
https://www.badgerchildhoodcancer.org/donate/team-fundraising-progress/?teamid=196
On this website, you will find Our Blog. Dedicated to Charlotte Rufener, this blog was started when her mother, Kristi, was pregnant with her and is still being written in today. Included in the blog is Charlotte's diagnosis and treatment, as well as how the family is coping with how their life has changed.
Be sure to check out the Features section to see some of the great news stories and articles featuring Charlotte and her battle.
The Galleries page contains pictures and video of Charlotte and her family, both before and after diagnosis. We hope that by viewing this media you can better relate to them, and come to understand how human beings can pull together as a family in a time of crisis.

Meet the Fighters is a page dedicated solely to the children diagnosed with Neuroblastoma who are either currently in treatment, survivors, or children who have lost their battle with this cancer. Each picture contains the courageous story of each child, and their struggle to survive and ultimately overcome their adversity. This page is especially important to us, as the children that are featured are the reason for this website. If you have or know a child you would like displayed on our page, please visit the click here to submit your request.


Charlotte Rufener's Story
The Merchandise page has Neuroblastoma and Childhood Cancer Awareness items for sale. Each item sold goes toward Charlotte Rufener's benefit account, or toward on of her favorite non-profit organizations dedicated to neuroblastoma research.
Did you know that only 1.85% of the American Cancer Society's research money goes toward all 12 types of pediatric cancer? (*July 2005, Research Department, American Cancer Society, Inc.)
The Donate page is where you can go to make a donation to some very deserving organizations, including Capital Candlelighters and Alex's Lemonade Stand just to name a few. These organizations are non-profit organizations that have raise money to help newly diagnosed families or to fund childhood cancer research.
Your donation is highly appreciated - Thank You!
The Contact Us page has both Kevin and Kristi's direct contact information. If there is something you would like to see us feature on our website, or if you have or know a child with Neuroblastoma (or any type of cancer or illness) and would just like to have someone to talk to, please feel free to get a hold of us here. You will never receive an automatic response from a computer, however please give us at least twenty four hours to respond to your email.
And lastly, the Resources page provides you with direct links to reliable website's where you can find more information about Neuroblastoma, and support groups in your area. There is also a list of hospitals and doctors that specialize in the diagnosis and treatment of this type of cancer in the event that you would ever need to utilize it.
Some Facts About Neuroblastoma
*Neuroblastoma is the most common cancer in infants with an incidence rate of almost double that of leukemia,yet most have never heard of it.
*Neuroblastoma is predominantly a cancer of early childhood, with two thirds of the cases presenting in children younger than 5. The average age at diagnosis is 2 years old.
*Neuroblastoma is a solid tumor cancer that originates in the nerve tissue of the neck, chest, abdomen or pelvis, but most commonly in the adrenal gland.
*It is a very aggressive cancer with almost 70% of children having mestastatic disease (spread to other parts of the body) at diagnosis.
*Neuroblastoma is the third most common cancer in children under 18.
*Neuroblastoma has one of the lowest survival rates of all pediatric cancers.
*The survival rates of high risk children is 30% at best.
*There is no known cause or cure.